Reviews of NeatoShop Print Quality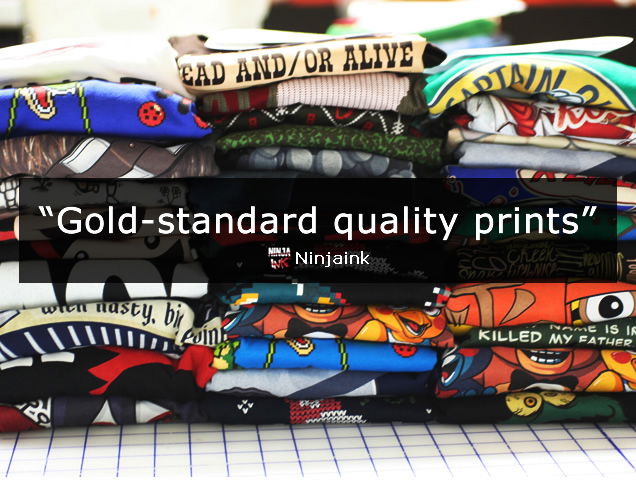 Quality is important to us - we want you to be happy with your shirts. That's why we're one of the few indie T-shirt sellers who print our own stuff (Many of our competitors, on the other hand, actually job out their shirt printing to a third party contract printer thousands of miles away, but that's another story).
By printing our own shirts, we can make sure that our prints are pin-sharp, the fine lines in the artwork are faithfully reproduced, and that every pixel get printed right. Our proprietary digital printing technique lets us create what one customer has called "high def" print with vibrant colors.
But don't take our word for it, here's what artists have said about NeatoShop's print quality:
Today, I'm going to do a quality print comparison between two different sites where I have the same T-shirt design listed, where the shirts are printed by DTG (Direct-to-Garment) technology.

Recently, I got one of my T-shirt designs called "King Bomb Tequila" printed from the NeatoShop. When the shirt arrived, I felt that it was necessary to do a comparison of the print by the NeatoShop with the same design printed by a competitor.

In these last few years, I've gotten shirts with my designs printed by different websites, but frequently the printed design lost details that were present in the digital artwork. I know that DTG printing technique is not a screen print and the final result is good, but in most cases, the colors are not bright and the overall design looks like it needed more ink. The new T-shirts looked like it was already washed a lot of times.

When I got my shirt from the NeatoShop and compared it to the same shirt printed by a competitor, I saw a huge difference. The NeatoShop shirt has vibrant colors and the design details look really good without loss of quality.

NeatoShop definitely has the best DTG print quality I've seen since I became a T-shirt designer. One thing is clear, the next time I want one of my designs printed, I will order it from the NeatoShop.
Review by fishbiscuit:
The awesome guys at NeatoShop really know how to treat their artists well. They recently sent me some samples of my shirts so I could check out the print quality. I was not disappointed! The colors are vibrant and the details are crystal clear. Neatoshop has mastered the art of Direct to Garment (DTG) printing. DTG printing can go horribly wrong, but clearly Alex and Brian know what they are doing and provide an excellent product! Not only is the print beautiful, the shirts are super soft, comfy, ringspun cotton. I washed both of my shirts inside out in cold water and hung them to dry. A little touch up in the dryer set to cold air with a softener sheet and the shirts look just like they did before the wash, no cracking, no peeling. When you buy from Neatoshop, I am confident you will love my shirts!
So, I opened up a NeatoShop store to sell some of my shirt designs, and they sent me some samples. First of all, that was SO NICE of them to send samples. Really, it floored me. Second of all, the samples and the prints were AMAZING. Really really great color and detail and everything! So impressed. I tried to take photos, but the camera was being weird. The photos don't really do the prints justice.
Review by Coinbox Tees:
So I got a package from Neatoshop with a few designs to show me the quality of prints and i got to say...this is probably one of the best places to get your design printed! The quality of the designs are just outstanding. I have gotten some digital prints of Coinbox shirts before...and they were just...ugh... I posted some pictures for you guys to check out but my camera does not give it justice at all.
Review by Mareve Design:
From an artist's perspective, we're always wondering if the artwork we've worked on for hours is going to look good once printed. The truth is, you'll never get disappointed with Neatoshop's quality. It's literally what you see is what you get; each and every small detail on your artwork is going to appear once printed, which is a huge plus. You can see that with the halftoning details I've put on the Dalek one and as well on the cracks in the weeping angel statue design.

Speaking of the details, I need to tell you about the colors. Can you see how vibrant the red, yellow and blue are? If you ordered from [competitor], you know the colors don't come that bright; they always look washed. However, the printing method they use over Neatoshop keeps the quality and the brightness of the colors we used. This is a great plus for artists since we know we can print basically any color we want.

Finally, the print size also is amazing; it's huge. I mean, we're not stuck with an 8x10 print here; you can see on the pictures how big the area is actually is. I knew with the requested size for the artwork that the print would be pretty big, but I didn't know it would be that much! So cool!

So yeah, am I satisfied? Nope, I'm BEYOND satisfied with my samples and I know these guys are going to do an amazing job printing my work. If you're an artist, I hope I convinced you to work with this amazing people, and if you're a customer, what are you waiting for?!
They have a fantastic selection of high quality items - I'm especially liking my new messenger bag!
Thanks to the fine folks at NeatoShop, we received a batch of our designs to reaffirm the quality of the prints: they are SUPERB! "Back to the Firehouse" even captures the extremely tiny halftone patterns that I used in the design -- exceptional quality at a very competitive price.
Review by Aaron Jo-Spephiroth Shaw, on Russ Jericho's design:
I recently received a T-shirt from you designed by Russ Jericho Artwork/Designs, and I must say that I am thoroughly impressed with the sheer quality of your printing, included is a picture of a comparisson of the same design by the same artist, but one is printed by [competitor], first of all you will notice that the [competitor's] print is a lot smaller then the NeatoShop print, then you notice that compared to the NeatoShop's lovely vivid colour print the [competitor's] print literally pale's in comparrison,although it is not easily seen in this photo the difference in quality is astounding, especially when you compare Russ Jericho's half toning on the design, every pinprick sized detail is printed on the NeatoShop version, where the [competitor's] version has been more blended together and not very impressive.

Thank you very much for this awesome print, excellent quality and you have done the artist a great service in representing his design so well and so vividly.

I also forgot to mention the actual "Hardiness" of the print, the [competitor's] print feels very thin, almost like fabric, but the NeatoShop print is thicker, and you can actually feel the difference in quality, simply amazing.
Review by Jimiyo:
Neatoshop t-shirts are created with direct-to-garment technology similar to other sites like Redbubble, Teepublic, and Shirt.woot DTG.

For comparison, I've uploaded some photos that include RIPT, Shirt.woot, and NeatoShop side by side. [...]

The colors are vibrant, and after two washes, my Neatoshop t-shirts are holding up well.  This is probably due to the careful pre-processing Neatoshop takes in ensuring a high quality product.
Review by Firepower Tees:
I recently checked out the quality of a design of mine on a product from one of the shops I am hosted by. I picked up one of their messenger bags. NeatoShop has demonstrably leading quality printing in the industry but that's mostly along the line of tshirts for which I am familiar. So I wanted to see some other results.

The bag arrived and I couldn't be happier. Its a great size for my tablet & and all that comes with (cables, power supply, speakers etc.) It seems really good quality in the feel and finish, in places like the snaps and pockets. 

But what really delights is the designs look so good on them. It looks like the design is almost embedded into the fabric or something. Very impressive.

Of course as usual the high quality of their prints shines through with great resolution. Check out the detail of the Tauntaun on the bag, that's really small about a centimetre if that!

I will be happy to wear this at conventions and haul my stuff around in it. Can't wait to wander around Celebration VII with this bad boy!
Review by Retro Review:
NeatoShop are my personal favourite at the minute when it comes to direct to garment (DTG) printing. Their quality is fantastic and I have broken it down into core points as to why I would choose them over any other DTG website.

The print feels light and really bright even on a dark tee - With poor direct to garment printing the printer drops down a really thick layer of white first to make the tee colour vibrant on a dark tee but this can result in the design not only feeling cheap but can even cause cracking in the design over time. The NeatoShop tee is just right; it feels smooth and not thick even on a black shirt.

The colours are perfect and match up well to my design mockups - I have had problems in the past with some DTG sites not printing the exact colour I had originally intended for my design. This can come down to your usual computer screen to print differences and the printers being used. I have found in the past that reds are usually the worst culprit and I ordered several Retro Gamer tees for the team here at Retro Review HQ to test this one out. I can confirm the colours are perfect and exactly how I intended it to be seen. I recently ordered my full range of NES pixel shirts (I like to wear my own designs like a walking Retro Review billboard) and again even with the hundreds of colours used there was no colour blur and they were pretty much exactly the same as my original on screen design.

The shirt quality is good and competitively priced - I really like soft spun shirts and not the heavy tees that a few of my friends like. NeatoShop offer you the choice between the 2 and at no extra cost. The shirts also have a tear away label on the neck so if you are the sort of person to cut labels off you can just give it a quick tug and not have to get out the scissors. Pricewise on face value they look slightly more expensive than some of the other shirt sites I sell on. However, I worked out yesterday that if you price up the other sites including shipping it still works out pretty much the same as NeatoShop and even cheaper with Neato if you buy a few shirts at once and get their free worldwide shipping.

Wash tested for months and the print holds up perfectly - With any DTG shirt make sure you read the instructions before washing. I have got into a habit of washing all my tees inside out and not at a stupidly hot temperature. The Neato tees all come with good instructions to remind me just in case I forget but after many washes my NeatoShop tees have come out great again and again. I have had some shirts in the past from poor DTG sites when I was testing out suppliers and the major problem I had with them was they would fade over time leaving that white layer on dark shirts. I can say for sure that NeatoShop provide a print that not only looks good the first day you put it on but lasts for months after.
Review by Chay Hawes:
I recently received a couple of sample t-shirts from Neatoshop.com, featuring two of my designs - Hollywood Hats and You're Growing on Me. Of all the places I sell my shirts, Neatoshop are by far the best. They go out of their way to help during the process of taking designs from the screen to print, they offer a wide range of sizes from junior sizes, to 6XL and offer a lot of the designs in a choice of two t-shirt fabric types.

They sent me a sample of each t-shirt type so that I could see (and feel) the difference, and also see how great their print quality is! Both are size Medium and fitted me perfectly. Below are my thoughts on each.

"You're Growing On Me" was printed onto a regular 100% cotton tee and feels nice and chunky - like most standard tees. The design is bigger than I expected but looks great - the colours are vibrant and the detail is all there - the design features a large expanse of colour, and this feels a little plastic which is to be expected due to the way they are printed and the sheer size of the image. 

"Hollywood Hats" was printed on their "ringspun" cotton tee and I now don't want to wear anything else! It's so soft and light and comfortable I found that I almost forgot I was wearing it! The hats design features a lot of tiny details (101 hats!) and the print quality is staggering. The process has picked up all of the fine detail and even the tiny lettering is readable on the Top Gun and Ghostbusters hats, which is quite an achievement. The colours are rich and accurate, and because the design is more spread out, the print material is not noticeably plasticy like it was on the other shirt.

I wanted to wear and wash the tees a few times before I wrote a full review to see how they held up to everyday use - I can say that they have withstood the trials of the washing machine and passed with flying colours. They both still look just as good as when I removed them from their packaging, and now that they have lost that slight chemical smell that was part of the printing process, they are even better!

I'm currently waiting on tees from other sites to compare, but I don't think they will be able to reach the same quality level as neatoshop.
Review by Stationjack:
Today I received my print samples and stickers from Neatoshop as part of their brilliant artist support package. I've seen a few reviews and photos on facebook of how good quality the prints really are. I can now confirm that the quality is indeed AWESOME! And I'd really recommend the ringspun cotton, these are lovely and soft.

Let me show you just how awesome it is.. I took some close up photos with my DSLR camera for you to see for yourself…
Review by Jak Gibberish:
Neatoshop review time yo!!

OK, first things first. Neato prints sure are top class!!

The other week I was sent a few samples from my Neatoshop! I couldn't really say much at the time of getting them as I was in the middle of a move. Oh well, better late than never I suppose.

When I received these I was actually blown away! The print quality on both of them are just super dooper amazing-balls!! Unfortunately the first time I got to wear my "Cthulhu from the Black Lagoon" tee out I went to a party and ended up getting soaked in beer (do not ask me why, can not remember much :P). All in all they are both superb. The colours are vibrant and the image itself is pin sharp! Big up everyone working at Neato print because you all are brilliant! If anyone ever wants some of my tee prints then Neato is deffo a place to check out!!
Review by Cory Freeman Design:
My "Artist Sample Bundle" just arrived from the good folks over at NeatoShop! The new Star Wars and Doctor Who shirts and The Legend of Zelda stickers look phenomenal!

It's definitely the highest quality Direct-To-Garment print I've seen! The accuracy of their prints look like they're screen-printed, but they've got a huge range of color that you can't get in screen-printing, so you get the best of both worlds!

But ya don't have to take my word for it! Pics attached!