NeatoShop Quality: Side-by-Side Comparison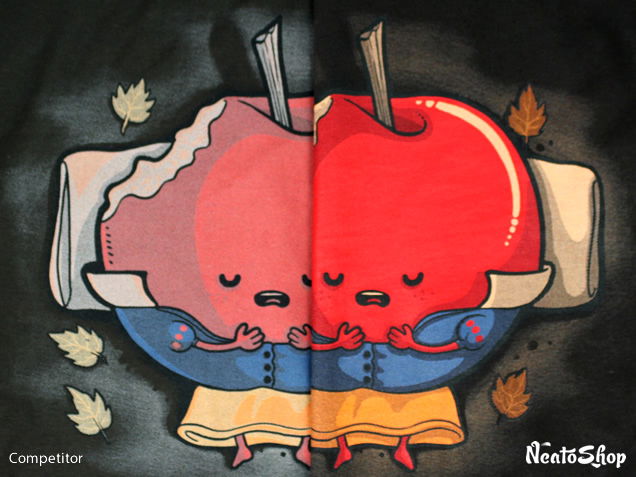 Did you know that many of our competitors actually don't print their own T-shirts? Instead, they job that out to third party contract printers thousands of miles away.
We think that printing our own T-shirts, hoodies, and sweatshirts is a key part of keeping our quality high. We've put years of effort into developing our proprietary printing technique, and the results are plain to see: NeatoShop prints are pin-sharp and our colors are vibrant (even on hard-to-print garments like fleece).

See also
Photos of Our Hoodies and Sweatshirts
We won't name names, but you've seen our competitors around the Web - and if you've ever bought T-shirts from them, you'll know what we mean by the difference in quality.
Here are some side-by-side comparison photos of NeatoShop shirts and our competitors':
Vibrant Colors
The difference in color vibrancy is like night and day: NeatoShop's shirt has vibrant colors that last through dozens of washes, whereas our competitor's colors look washed out even on a brand new shirt!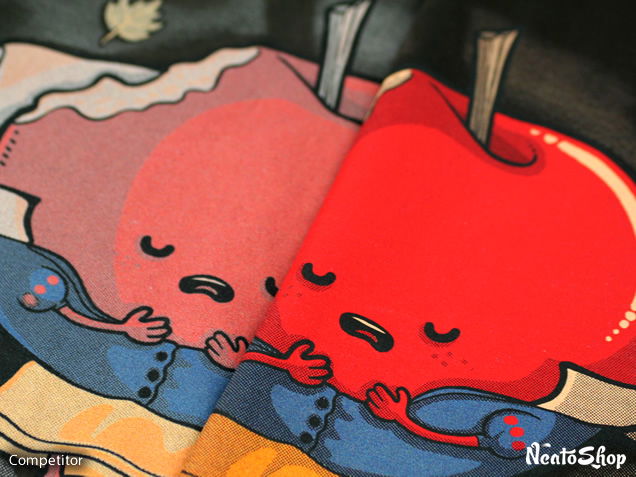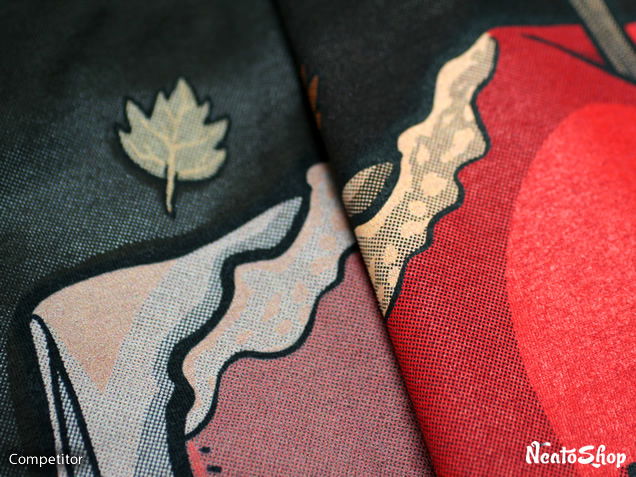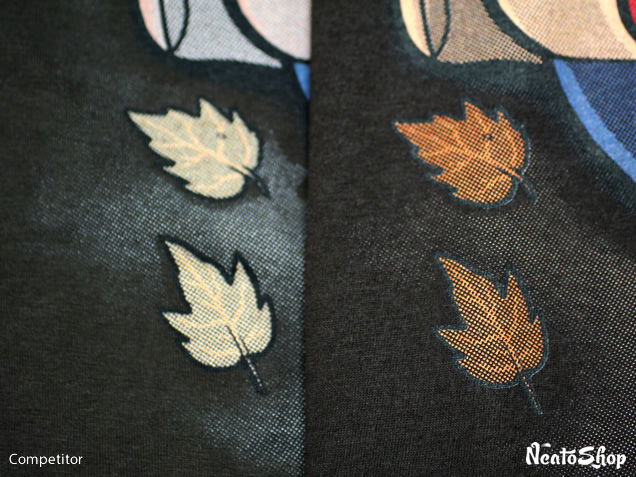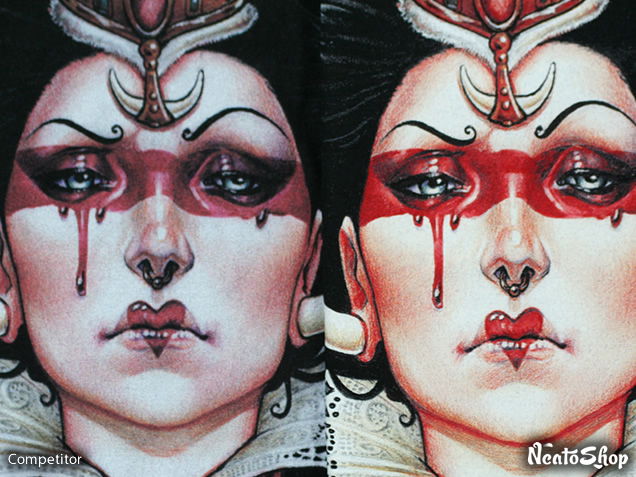 The Red Queen doesn't look so red on our competitor's shirt! We're able to faithfully reproduce the Medusa Dollmaker's vivid red crown, heart, and face paint as well as the character's flesh tone on shirts and fleece.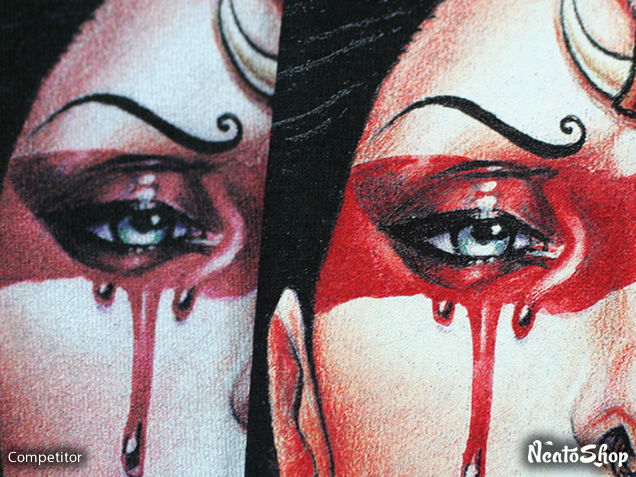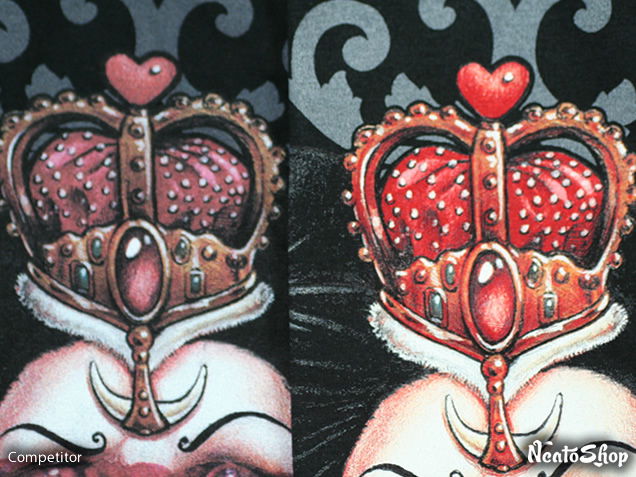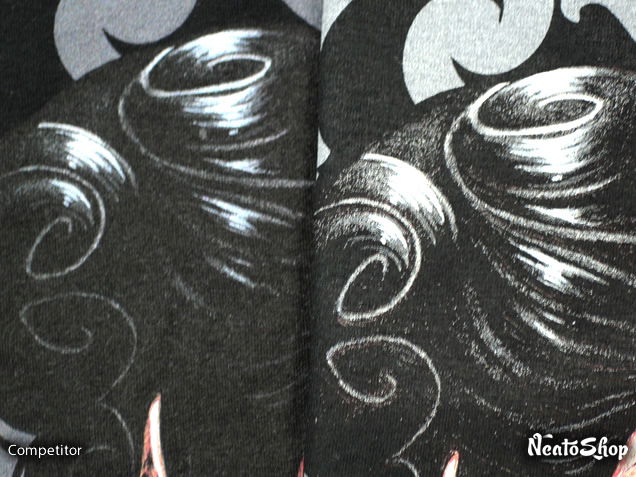 NeatoShop's proprietary printing technique means you'll see every pixel and color gradients like the waves and shine of the Queen's hair.
You'd be forgiven if you thought the moon was brown in our competitor's shirt. It's supposed to be red, as artist Emilie Boisvert told us.
The difference in color vibrancy across the entire spectrum of red, blue, and yellow is readily apparent in this comparison photos of Emilie's Okami Chan design.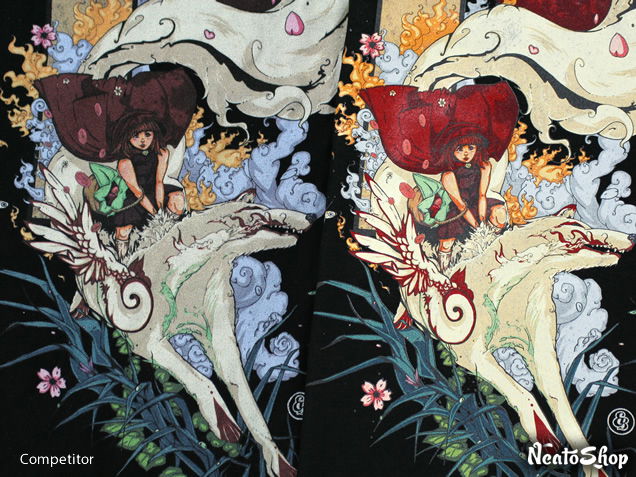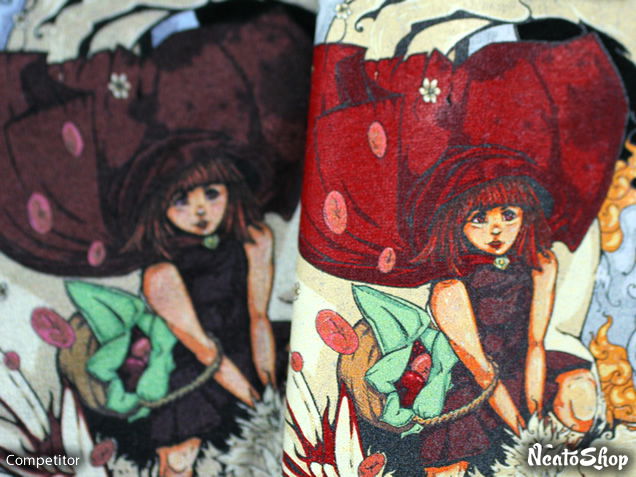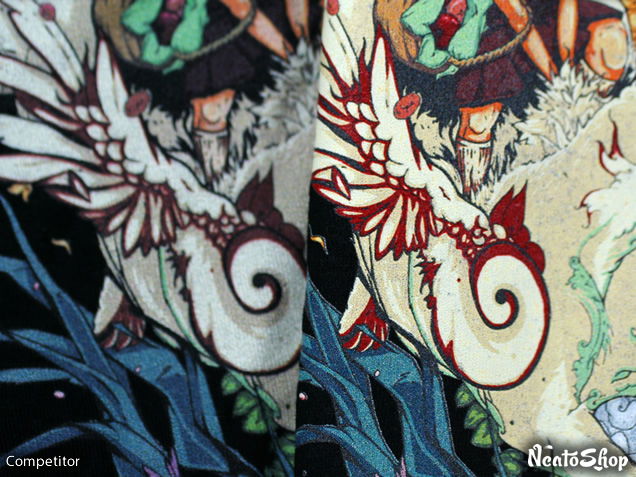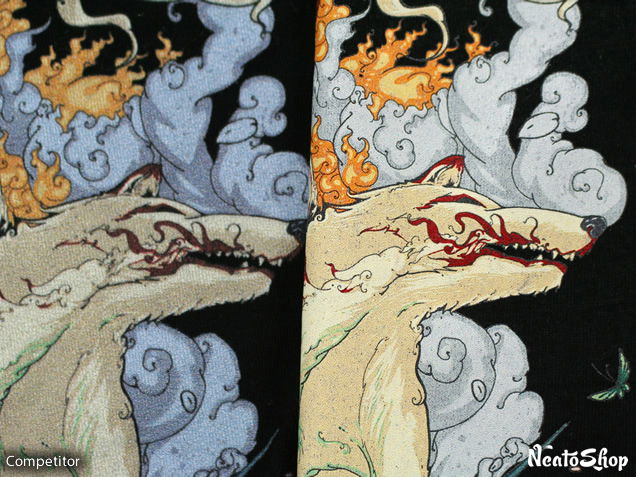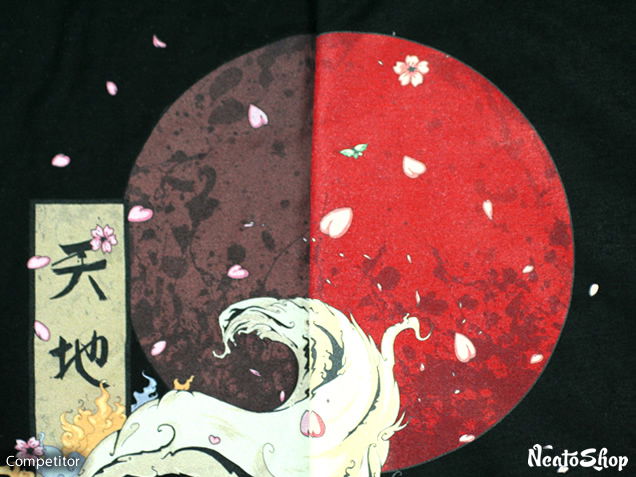 Super Sharp Prints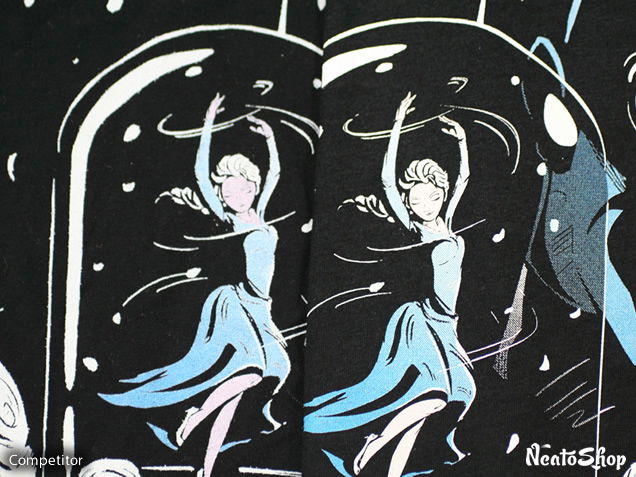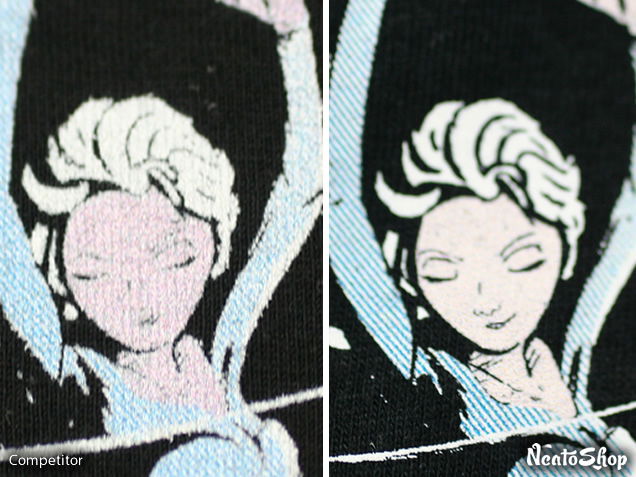 What happened to her nose? That won't happen on our shirts: You'll see every every line of the design printed faithfully, just like Carlos Gil intended in his fantastic Frozen in Time design.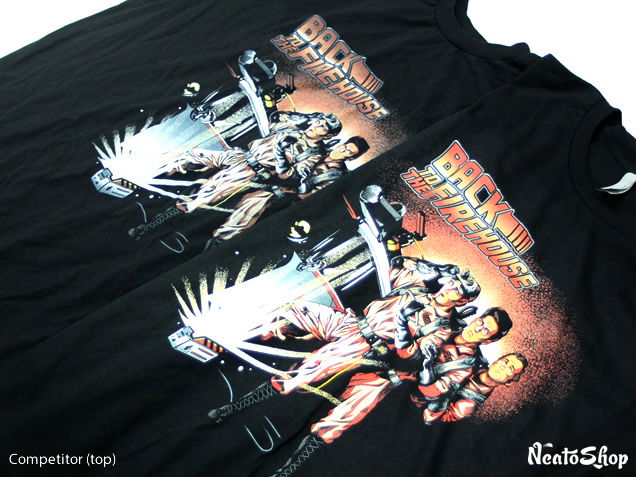 Back to the Firehouse by Ninjaink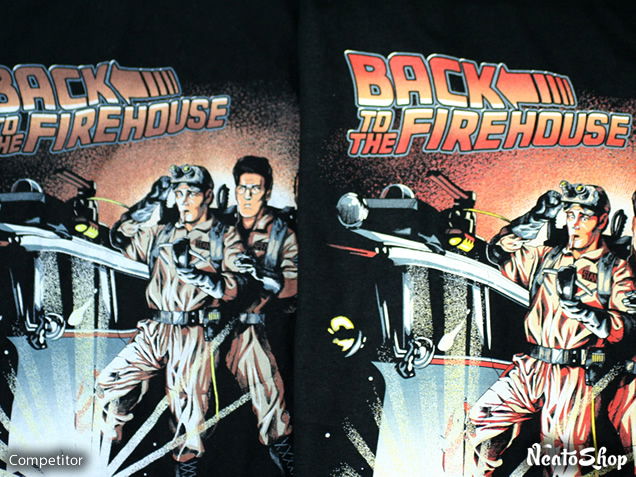 NeatoShop's print captures the extremely tiny halftone patterns that Ninjaink uses in this Back to the Firehouse design. You'll see every colorful pixel faithfully printed on the shirt!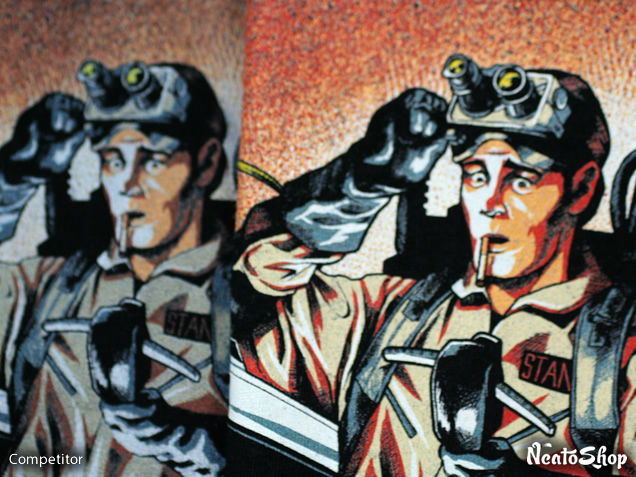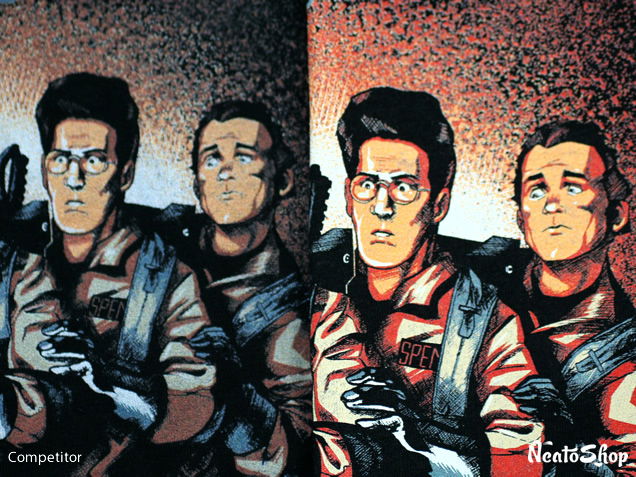 NeatoShop's vibrant colors and sharp lines sure helps make Taylor Rose's Octopi design look great!